Statistics
We have
2331
registered users
The newest registered user is
yasmeen kousar
Our users have posted a total of
5673
messages in
3716
subjects
January 2018
| Mon | Tue | Wed | Thu | Fri | Sat | Sun |
| --- | --- | --- | --- | --- | --- | --- |
| 1 | 2 | 3 | 4 | 5 | 6 | 7 |
| 8 | 9 | 10 | 11 | 12 | 13 | 14 |
| 15 | 16 | 17 | 18 | 19 | 20 | 21 |
| 22 | 23 | 24 | 25 | 26 | 27 | 28 |
| 29 | 30 | 31 | | | | |
Calendar

Who is online?
In total there are
3
users online :: 0 Registered, 0 Hidden and 3 Guests :: 1 Bot
None
Most users ever online was
89
on Wed Feb 16, 2011 7:54 am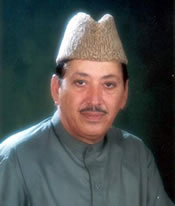 Introduction of Qari Waheed Zafar Qasmi:
"When the Quran is read, listen to it with attention, and hold your peace: that ye may receive Mercy." Quran 7:204
Memorization of the Quran was given more emphasis in early Islam, as this was the only protected and trustworthy method given the conditions of that time. The reason is that the number of people who could read or write was very limited in those days. The means of publishing books, such as printing press, etc., were not there. Therefore, within a short time, there was on hand a large group of noble Companions who had the Glorious Quran all committed flawlessly to their memory. This method continued even after complication/ writing of Quran a7 till to date when Quran is available in more than 40 languages of the world, it is being memorized as God has committed for its protection till the day of judgment.
Among the Qaris worldwide, the name of Qari Waheed Zafar Qasmi has a prominent place. Qari Sahib started his career of Qirat since his early childhood, which is continuing till present. He also recites Naats and Hamds regularly and has some very popular Sanas on his credit. He has performed all over the world and has won many national and international awards. His contribution in the field of Qirat and Sana Khawani led him to win the Pride of Performance Award as well in the year 1985.
KalPoint.com was honored by the visit of Mr. Waheed Zafar Qasmi as our exclusive guest and thus we conducted an interview with him, which is reproduced as under for our netizens:
Kalpoint.com: When did u start Tilawat-e-Quran Majeed and which was your first program?
Qari Sahib: I started reciting Quran-e Majeed from the age of 6 or 7. At the same time I started reciting Naat and Hifz of the Holy Quran as well. By the age of 9, I had learned Quran-e-Majeed by heart and had also learned Qirat. I am much delighted of my early age achievements & pray that may Allah give me strength to learn more and help me to further progress in the same field. Ameen.
Interview with KalPoint.com
Kalpoint.com: Have you participated in Naat Khawani competitions at the international level and what were your achievements?
Qari Sahib: I have participated in many international competitions. By the grace of Allah I won the first competition in 1969 in Malaysia for Pakistan and thereafter in Libya in 1979. In 1980, I won a competition of Tilawat-e-Quran-e-Majeed in Saudi Arabia. Then again in 1981 I won a competition in Syria. Thus by the Grace of God I have received much respect and credit for the work I have done up till now. It's all because of Allah that I am here today in front of you as well and I am really thankful to Almighty Allah for his utmost blessings.
Kalpoint.com: When did you start working for Radio?
Qari Sahib: I started Radio programs in 1970 and the first program that I did was "Sar Chashma-e- Hidayat". This program provided me the various opportunities to proceed further in this field and helped bringing me to the limelight. After that I did many programs on television as well although radio gave me the greatest exposure.
Kalpoint.com: What are your futures plans for Naat Khawani?
Qari Sahib: A person who enters this field mostly intends to carry it till his last breath. I, too, hope and intend to do so till the very end. May Allah help me to succeed in my aim, Ameen.
Kalpoint.com: How many Naats have you recited up till now and which were the most popular?
Qari Sahib: In 1972, I read my first Naat, which is Arba-e- Qaseeda (Allah Hu Allah Hu) on television, which got very popular all over the world. Some of my other popular Naats are Fasloon Ko takaluf hai hum say agar, Zahe Muqadar and Qaseeda-Burda Shareef. I have really enjoyed reading all the Naats to my fullest because I have read them with full devotion and dedication. I am really thankful for the respect I received by the Grace of Allah. I pray that this process of respect and popularity continues forever Ameen.
Kalpoint.com: You have done Qirrat, Hamd khawani and Naat khawani. In which of these three did you find yourself most emotionally involved while performing?
Qari Sahib: I think whether one does Kalam-e-Allah or Madha sarai Rasool; it's always a great pleasure. I enjoy both of them. Saying Kalam-e-Allah itself is a great honor and so is Naat Khawani. Therefore it is very difficult to say in which I get involved more. I think it is more or less the same in all three.
Kalpoint.com: Have you ever recorded videos of yourself?
Qari Sahib: No, I have not yet recorded videos. There are some videos available though but I haven't made them for myself.
Kalpoint.com: Do you think making video is appropriate while performing Hamd or Naat?
Qari Sahib: It is a good practice. There is nothing bad in it. If you can spread Kalam-e-Allah and Naat Goyee, what can be better than that? In fact we should support this media. It is definitely better to spread words of Allah and praises of Rasool rather than promoting songs and other things. I think it should be encouraged more.
Kalpoint.com: Who do you think is the best Naat Khawan?
Qari Sahib: There are numerous Naat Khawans in our country like Siddiq Ismail, Khursheed, Fasih Suherwerdee and Saeed Hashmi who are doing a very good job. To me any one who has been given the blessing of offering Hamds and Naats is a good Sana Khawan because Sana Khawani itself is an honor for a person who offers it. So it is very difficult to name one person as the best in this field.
Kalpoint.com: Would you like to narrate any experience which is still fresh in your mind
Qari Sahib: Alhamdulillah the honor for Durood-o-Salam inside the Roza-e-Rasool (PBUH) in 1987 is the most cherished event of my life. I really thank God for that since it is the biggest achievement one can have.
Kalpoint.com: How many Naat volumes of yours have been released in the market till now?
Qari Sahib: I have released only four volumes and the fifth volume "Bab-e-Rehmat" has been released recently.
Kalpoint.com: There is a trend these days that most of the Naat Khawans are offering Naats based on famous songs. What do you say about it?
Qari Sahib: I would say that Naats should not be based on tunes of songs. But on the other hand a question arises that how will we compose so many tunes? Sometimes a song touch comes in a Naat unknowingly but one should try his level best to avoid this mixing.
Kalpoint.com: What is the ratio of people coming to Sana Khawani these days to that of previous days?
Qari Sahib: When I started, there were very few Naat Khawans, but Alhamd-o-Lillah there are many now. So the graph has obviously gone up as compared to yester years.
Kalpoint.com: You have been given lots of awards by the media. Please tell us something about them.
Kalpoint.com: Have you ever been associated with any training institute of Naat Khawani?
Qari Sahib: Yes, many Naats Khawans have got training from me including Umm-e-Habiba, Roshan Ara Samad, Javed Akhtar and Khalid Hussain. They are renowned Naat Khawans of today.
Kalpoint.com: Do you think the new Naat Khawans have succeeded in maintaining the standard of Naat Khawani?
Qari Sahib: When I offer any Naat, I try to give it my best by practicing it for two to three months. But the youngsters nowadays don't care about these minute details. They always seem to be in a hurry. So they have not succeeded in maintaining the standard of Naat Khawani to their fullest.
Kalpoint.com: Some people are in favor of doing Mehfil-e-Milads, while others are against it. What do you think?
Qari Sahib: I am certainly and most definitely in favor of doing Milads. The whole world was created because of the Holy Prophet so how can it be wrong to arrange such Mehfils in his honor. However, I am not too much in favor of women reciting Naats on loud volumes on mikes. Besides that I love to attend and participate in Milads. It is because of those who have added so many formalities to it that people now fear from Milads.
Kalpoint.com: What spiritual and mental changes a Naat Khawan experiences when he recites Naat?
Qari Sahib: It is a fact that who ever says any kalaams in honor of the Prophet, his heart will be contented and satisfied. And I don't think any person in this world would follow the wrong path after reciting Naats and Hamds.
Kalpoint.com: What are the etiquettes of performing Naat?
Qari Sahib: There are many but I would define a few here. First of all ones head must always be covered while performing Sana Khawni. Then there should be respect for God and His Prophet in ones heart. Only then should it be performed and only then will the Naat Khawan be successful in getting the listener involved as well.
Kalpoint.com: Do you compose Naats as well?
Qari Sahib: No, I only select the Naats that I recite, I do not compose them myself.
Kalpoint.com: What do you think is the ratio of luck and hard work for success?
Qari Sahib: (With a smile), I think its fifty fifty.
Kalpoint: Thank you very much for your visit to Kalia Group & KalPoint.com. We are honored and happy to have you with us as we have learnt a lot from you. Incidentally we are now in Mah-e-Ramzan & it is God's blessing that such a topic will be on the Inter-net through your good self & KalPoint.com for the benefit of millions of
Admin





Posts

: 146


Points

: 367


Join date

: 2009-06-01



Very nyc Interview.JazakAllah 4 sharing.

Qari Waheed Zafar iz undoubtedly one ov the Best Naatkhwaan MAshaAllah
NEW MEMBER





Posts

: 3


Points

: 3


Join date

: 2009-07-14




Similar topics
---
Permissions in this forum:
You
cannot
reply to topics in this forum